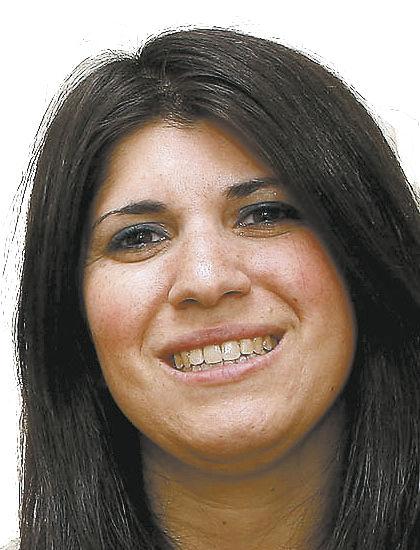 The Mesa County attorney's job isn't just about being a lawyer, it's about supporting the ideals of the Board of County Commissioners, its chairwoman says.
Commissioner Janet Rowland, who along with Commissioners Cody Davis and Scott McInnis are searching for a new county attorney, said the board directly hires only three positions: county attorney, county administrator and the director of the Department of Human Services.
"That essentially is our Cabinet," Rowland said in response to the board selecting former Commissioner Rose Pugliese as the sole finalist for the county attorney job last week, a decision that's raised more than a few eyebrows.
That happened after a first round of finalists were set aside, including Deputy County Attorney Nina Atencio, who has been filling in since the commissioners declined to renew the contract for former County Attorney Patrick Coleman in January.
"People elected us based on our values, our guiding principles, our belief in the proper role of government," Rowland said. "So it shouldn't be a surprise to anyone that we would hire members of our Cabinet who share those values and will implement them."
Rowland said doing so is no different than a newly elected governor or U.S. senator hiring a new executive staff.
"Did Senator (John) Hickenlooper hire Cory Gardner's staff?" she asked. "Of course not. He hired people who shared his values and will help him implement them. What we are doing is no different."
County officials said they were entirely open about the selection process in its search, including holding public meetings on the applicants, but no one from the public showed up to any of them.
After Coleman was let go, a open community meeting was held on Feb. 5 to discuss the qualifications and characteristics that county attorney should have, which included a select number of people, such as the three commissioners, District Attorney Dan Rubinstein, Sheriff Matt Lewis and former state Rep. Yeulin Willett, all Republicans.
That was followed a week later with a public hearing to review the six candidates who had applied. No one from the public came.
On Feb. 15 the commissioners publicly announced that they had chosen Atencio and Chief Deputy District Attorney Jennifer Lee Springer as the two finalists. Atencio has been with the county attorney's office for a decade, while Springer has worked in the DA's office for more than a dozen years.
Commissioners then formally interviewed Atencio and Springer in separate close-door sessions on March 16, but three days after that the application process was reopened, which was announced with little fanfare and no comments during a regular commissioners' meeting.
The second round was intended to increase the applicant pool, resulting in six additional people applying, including Pugliese. That round included the original six applicants, making a total of 12 possibilities. Afterwards, another public meeting was held on April 2 to talk about them, and, like the earlier one, was posted and open to the public. Again, no member of the public attended.
The following Monday, Pugliese was named the sole finalist.
During both rounds, the position was advertised in several print and online sources, including national ones such as Indeed and NeoGov, which focuses on government job openings.
Pugliese told The Daily Sentinel that she didn't apply during the first round primarily because she had recently moved to Colorado Springs with her two young children, and was starting a new job there in the law offices of Wegener, Scarborough & Lane, where she is of counsel along with Willett working on estate planning and business development for municipal and county outsourced work.
Of counsel is a job title in the legal profession that denotes someone who is attached to a specific law firm, but is not a partner or associate.
"I actually recommended and encouraged some of the candidates to apply," she said. "I was encouraged by several community members to apply when the job was first posted and declined, and then again when it was re-posted."
Pugliese said that encouragement didn't come from any of the three current commissioners.
"I was torn and did not apply right away, but upon further consideration felt like it was an opportunity to continue to use my knowledge to serve Mesa County in a different way," she said. "Mesa County was calling me home."
The commissioners plan to interview Pugliese in executive session on Monday.
The 17-person office, which employs eight attorneys, provides legal assistance for everything from reviewing and drafting county contracts, defending the county in lawsuits, and handling legal issues for the Human Services Department, primarily in child abuse and at-risk adult cases.
While it is unknown how much the new county attorney will be paid, Coleman was making $185,000 when he left, making him the highest paid county employee. He had seen a 37% pay increase over the past couple of years.
County Administrator Pete Baier makes $180,000 a year, while Human Services Director Tracey Garchar earns $151,000 a year.
Commissioners had to pay Coleman $120,000 as part of a severance agreement in his contract. That money included such things as accrued benefits from unused vacation and sick time. He worked for the commissioners for six years.