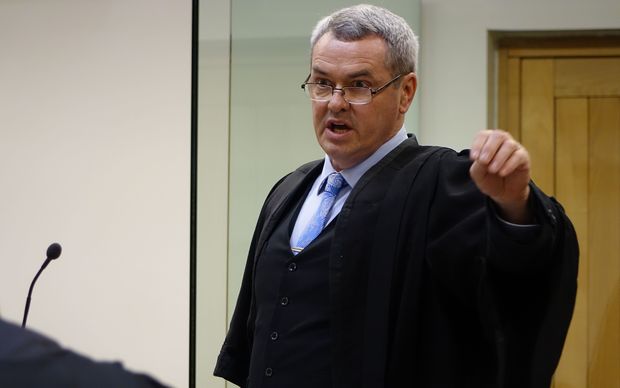 Leading criminal lawyer and former Law Society president Jonathan Temm QC has died at the age of 58.
The Rotorua barrister worked on a number of high profile cases, including the Nia Glassie murder trial.
In a statement, Law Society president Tiana Epati said "we have lost a leader, a great advocate and a good kind man".
"Jonathan was incredibly generous with his time and always willing to help his fellow lawyers. When I took on the role as president, he was one of the first people who reached out and made sure I knew I could contact him at any time if I needed to talk about the pressures of the role."
Temm was president of the Law Society from 2010 until 2013 then continued to work doing unpaid and volunteer legal work.
He was appointed Queen's Counsel in 2019, in recognition of his calibre as a lawyer and his work in improving access to justice.
He died on Wednesday.
Jonathan Temm's career
Temm graduated from Auckland University in 1992 with a Bachelor of Arts major in political studies. He began his legal career at Chapman Tripp Sheffield Young in Auckland in 1993.
In 1995, he joined Davys Burton where he became a partner and senior Crown counsel. He spent 10 years in the role of Crown Counsel.
In 2005, he commenced practice as a barrister sole, with a specialty in criminal law and civil litigation.
He also volunteered in leadership roles for the New Zealand Law Society. As president of the Waikato/Bay of Plenty District Law Society, he pushed through changes, including the amalgamation of the District Law Society into the national New Zealand Law Society.
In 2010, he become president of the New Zealand Law Society Board.
During his presidency, the Law Society consulted on and implemented new Continuing Professional Development rules.
The Law Society says one of the most difficult issues he faced was the legal aid reforms and establishment of a new legal aid framework.
Following his presidency, Temm continued in unpaid service and participated in court reforms, including as chairperson of a NZ Law Commission committee; and a board member of South Pacific Lawyers Association. He also chaired the Law Society's CPD Committee and was a trustee of the NZ Law Foundation.
In 2019, Temm was appointed Queen's Counsel in recognition of his ability as a lawyer and his work in the access to justice area.