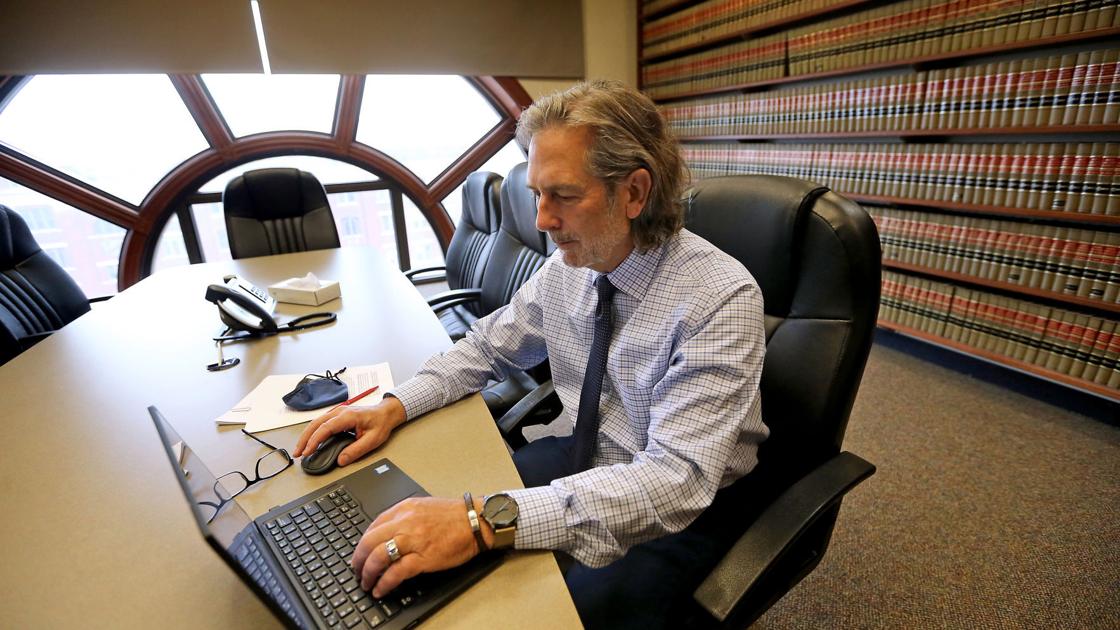 After the COVID-19 pandemic prompted the months-long suspension of local jury trials, the tri-state-area's criminal justice system faced a backlog of cases.
Many people facing charges filed in February 2020 still had cases open one year later, said Dubuque County Attorney C.J. May III. Plus, there were the cases filed since then that were also put on hold, and then more new cases continually coming in on top of those.
Those factors put a spotlight on the plea bargaining process, through which attorneys negotiate the terms under which a defendant agrees to plead guilty. While most criminal cases in Dubuque County typically are resolved via plea bargains, May noted that even more were reached during the pandemic.
"It's sort of a terrible snowball effect, so we've been kind of required to look at the cases and probably be a little more vigilant on making offers that would make sense in general but would be of interest to the defendant," he said.
Nationally, about 90% of cases that make their way into the criminal justice system are resolved via plea bargains — a statistic that local officials generally say holds up in the tri-state area. Local attorneys say they consider a variety of factors when arriving at a plea deal, such as the evidence in the case and the victim's desired outcome.
While a backlog of cases during the pandemic might have prompted local prosecutors to offer more plea deals, both prosecutors and defense attorneys agree that such negotiations are an essential part of keeping the criminal justice system functioning, regardless of the circumstances.
"I think without plea negotiations, it would kind of cripple the criminal justice system," May said. "We only have so many judges and so many court clerks to help out taking the jury in and out. There are a lot of moving parts. It would be very difficult if we weren't able to resolve a great majority of cases without trial."
Plea process
Plea bargaining can occur for any level of criminal charge, from first-degree murder to a scheduled traffic violation, May said.
"To my way of thinking, plea bargaining is really just a way that the prosecution provides a concession to a defendant in exchange for a plea of guilty," he said.
Traditionally, the prosecution will present an offer for a plea bargain, and the prosecution and defense negotiate until both sides reach an agreement.
Typically, a plea deal results in one of three outcomes: a defendant pleading guilty to a lesser charge, a defendant pleading guilty to fewer charges than initially filed or a defendant pleading guilty to an original charge with a more lenient sentence, May said.
When putting together a deal, prosecutors weigh all of the evidence in the case, a defendant's criminal history and the likelihood of conviction at trial. If prosecutors don't feel they have enough evidence to prove their case, they have "an ethical duty" not to go to trial, May said.
He also considers the kind of outcome a victim would like to see when negotiating a plea deal, though he cannot always satisfy those interests.
"There's always value in closure, not only for the citizens in a community but certainly for the victim," he said. "It allows them to say the case is concluded, (and) the criminal justice system did what it had to do."
Jo Daviess County (Ill.) State's Attorney Chris Allendorf said a victim's perspective is top of mind when considering potential deals, though it isn't the sole determinant.
After the prosecution and defense finish their negotiations and reach a plea agreement, a judge also must agree to accept the deal before it takes effect. Iowa District Court Judge Thomas Bitter said judges don't often reject a plea negotiation, though it can happen.
"The attorneys are the ones who have put in the time and the effort in talking to witnesses, looking at all the evidence and evaluating the strength of the case," he said. "For the most part, when a prosecutor values his or her case and makes a plea offer, my assumption is that the prosecutor has appropriately assessed their case and what a reasonable plea offer will be."
A report from the U.S. Department of Justice's Bureau of Justice Assistance previously found that 90% to 95% of cases nationally are settled by plea bargaining. It's hard to quantify how many cases in Dubuque County are settled by plea negotiation, May said, but it likely would be similar to the national rate.
"Now, statistically, would 90% of traffic violations be resolved by some sort of negotiation? I think so," he said. "But when you get to Class A felonies, do I think 90% of those are resolved (through plea deals)? Probably not."
Allendorf said he did not know of any county recordkeeping tracking how many cases end in plea bargains, but he would guess it to be in the 90% to 95% range. Because the county has a small prosecutor's office and smaller pool of defense attorneys, there isn't always a lot of space on the docket for multiple trials, he said.
However, the size of the county's resources isn't a driving factor in the plea bargaining process, Allendorf said.
"It's just the reality of being in a small county," he said. "We have to be more careful with our time, but that doesn't mean we're shortchanging any criminal case."
Bitter also noted that a majority of cases are resolved through plea agreements, which has positives for both the defense and the prosecution.
"The plea bargaining process is so critical," he said. "… It takes the risk out for both sides. The state avoids the risk of a defendant being acquitted. The defendant avoids the risk of being convicted of something more severe."
Essential element
Plea bargains also help save time and resources that are required when cases go to trial.
May said that given the volume of charges and number of attorneys available, it can be challenging to prosecute cases in a timely manner.
Allendorf agreed, adding that the issue is even more pronounced in smaller counties.
"We could decide as a community to hire more judges and prosecutors, but I doubt that would alter the plea numbers drastically because there would be the pressure to just charge more cases and then be back in the same situation," he said.
Allendorf added that it's just "reality" that many cases won't go to trial, either because the prosecution's case is somewhat weak or very strong.
"In the strong cases, a plea doesn't always mean the defendant is getting a break," he said. "On weaker cases, it means we're achieving some justice on a case that may have been difficult to prove and convince 12 members of a jury."
May said that sometimes, negotiations are prompted by the amount of time that an offender realistically might be imprisoned. Depending on the offense, a defendant might receive credit for time already served in jail, resulting in much or all of a sentence being served by the time it is determined. In that case, attorneys might decide to enter a plea negotiation, May said.
Having a plea deal for a lesser jail sentence or credit for time already served also can alleviate prison overcrowding problems.
According to data from the Iowa Department of Corrections, state prisons housed about 7,700 inmates as of Thursday — far above their collective stated capacity of 6,933 inmates.
"There's no question that there's not enough room to put everybody in prison," May said.
If a defendant takes a plea deal — which typically results in jail time or probation — that means fewer people are in prison for a longer amount of time, he said. Still, he noted, overcrowding in prisons isn't a determining factor in a plea negotiation.
Public defender Thomas Goodman, who practices in Dubuque, noted that Delaware County Jail in Manchester has been overcrowded for years, and those sorts of issues can be factored into negotiations depending on a defendant's charge.
"You can take advantage of that from a defense standpoint," he said. "… COVID(-19) played into that a little bit, too. They didn't want people in the jail that were kind of marginal before, so the needle kind of pointed to keeping them out of jail."
May also noted that there have been concerns historically about innocent people taking plea negotiations for personal reasons.
"I think we've learned that through the advent of DNA and DNA testing, people probably did plead guilty to offenses they didn't commit," he said. "But I think overall, certainly in our jurisdiction, we haven't had that concern."
COVID-19 effects
In March 2020, the Iowa Supreme Court issued the first of several orders to pause jury trials due to COVID-19. The most recent order allowed those trials to resume starting Feb. 1.
That date also marked the first of the 120-day window in which defendants whose cases were impacted and did not waive their right to a speedy trial had to be tried. The window closed on Tuesday.
May said ahead of that deadline that the courthouse has had an extremely busy schedule over the past four months to adhere to it — a trend he expects to continue. At one point, judges were setting three trials to run each week in order to catch up, May said.
"I think even after we get past the first of June and that whole group of cases, there's still people that got arrested since the first of February (2021)," he said. "So while they may fall outside of June 1, a speedy trial is a speedy trial. It's probably going to take some time until it tapers out to a spot where we're not so condensed."
Bitter said he feels the court process is returning to some degree of normalcy, but the Dubuque County Courthouse hosted at least one felony jury trial a week for seven or eight weeks after trials were allowed to resume, which is atypical.
He also feels that the COVID-19 trial pause prompted attorneys to consider more plea negotiations than usual.
"The state has some incentive to make very reasonable offers because of the interest in moving cases along and getting people out of jail," Bitter said. "Defendants had an interest in accepting or being willing to accept offers because it would mean their case could move along, and it sometimes meant they could get out of jail."
Sam Wooden, defense attorney with Reynolds and Kenline in Dubuque, said he tracks which Dubuque County cases go to trial to potentially use in future cases. According to his records, Dubuque County had 33 trials in 2019, compared to eight trials in 2020 — all but one of which occurred before the pandemic began. That means that all the other cases that would have typically happened that year had to be settled through plea negotiations or were delayed.
"What I found was that cases that should have gotten settled did get settled last year — cases where a client was guilty and looking to get a deal," he said.
Allendorf said some jurisdictions tried to do more nonjury trials during the pandemic, but most matters were put on hold for months as new cases continued coming in. Illinois resumed in-person proceedings this spring.
"Crime in general was kind of down for the first few months of the pandemic," he said. "It's really now coming back with a vengeance, it seems to me, compared to when I started in January."
However, he said he didn't feel there were many more plea bargains taken than would be typical.
"I really don't think it was too extraordinary how many we plead out," he said.
Goodman, who primarily works cases in Dubuque and Delaware counties, said he continues to see a backlog of cases from COVID-19. He said Delaware County recently only had two available dates to schedule trials in an entire month because the courthouse was so busy.
"One week, I had 50 clients between the two counties," he said. "It's really an anomaly. I think almost every one of those resulted in a plea negotiation."
Defendants get chance
Goodman said plea negotiations also can prevent a client from being overcharged.
"Do we want to saddle somebody who's young with a felony for the rest of their life, which may prevent employment, prevent getting into school, prevent from getting a certain type of job for some stupid thing that they did?" he asked.
Negotiations also often come into play when defendants know enough evidence exists to convict them during a trial, which could lead to them facing a full sentence.
"Most of the time, the clients are aware if they've done something wrong, they need to own up to their actions, and there are an awful lot of clients that do that," Goodman said. "They just want to be treated fairly and say, 'I know I screwed up. Can I get probation?'"
Wooden said defense attorneys cannot make a client take a plea deal but only can give guidance to let them make their own decision.
"At certain times, you say, 'You're facing life in prison — let's cut some of the risk away,'" he said. "Other times, it's, 'You have a good case here. Maybe wait."
Goodman said sometimes, clients can be "their own worst enemy" when it comes to hearing advice and making decisions on deals.
He cited the trial of former Delaware County woman Revette Sauser as an example. Sauser was found guilty of first-degree murder on May 7 for shooting and killing her husband in 2011.
Sauser initially took a plea deal for lesser charges — voluntary manslaughter, second-degree kidnapping and going armed with intent — and was sentenced to 40 years in prison. However, she later appealed the decision and claimed her attorney was ineffective for letting her plead guilty to kidnapping without enough evidence.
The Iowa Supreme Court agreed with Sauser's appeal but ruled that if the kidnapping charge couldn't be justified, the first-degree murder charge would need to be reinstated. She would go on to be convicted of that charge and was sentenced last week to the mandatory sentence of life in prison without parole.
"Sometimes, clients don't trust their lawyers and think that they're not working hard for them, and we're working hard for them every day," Goodman said.
He said plea deals are a way to achieve a middle ground among the different parties involved in a case, including the defendant and victims of the crime.
"There's always two sides for justice," he said. "Justice for one person is not justice for another person. What we attempt to achieve with plea negotiations, and in the court system in general, is you can't always deliver justice, but you can certainly try to be fair."