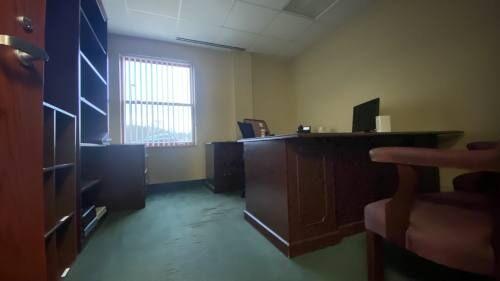 CADILLAC — March has come and gone. April is nearing its midpoint and still no jury trials.
Last month, Wexford County Prosecutor Corey Wiggins said he was hopeful trials would resume soon. He believed that could be toward the end of March or even in early April. With the recent surge in COVID-19 cases, it is very unlikely trials will resume in April and potentially even in May. Only time will tell.
While the stack of potential trial cases continues to grow, Wiggins and his office are not in a position to tackle them head-on. For one, Wiggins is currently quarantined due to possible COVID-19 exposure. Secondly, only chief assistant prosecutor Johanna Carey is working in the office.
Although the office recently was allowed to hire a fourth attorney to work in the office, only Wiggins and Carey are handling cases. With Wiggins quarantined, if trials were to resume only Carey would physically be able to litigate in the short term.
"We are understaffed. Right now, because of no trials we are able to keep our heads above water," Wiggins said during a recent phone interview. "The fear is once we start to have trials we will be swamped."
With Carey coming to the prosecutor's office from the public defenders' office, Wiggins said there are conflicts. Without a third attorney, at the very least, he said that will mean he will be handling the trials and Carey would be left covering the other two courts while he is in a trial.
This lack of attorneys is creating problems regarding the ability to do trial prep. He also said the lack of at least one additional prosecutor made it so they have to cut back on the hearings they attend. If it is not necessary or required, Wiggins said his office is foregoing their appearances. This includes "walk-in" arraignments and some of the daily arraignments in district court.
He also said his office can no longer participate in sobriety court due to the staffing shortage. Sobriety court is a specialty court designed to provide supervision and treatment for repeat drunken driver offenders. Its end goal is to help those offenders attain and maintain sobriety to reduce the recidivism rate.
Although the public defenders' office has what is known as "conflict attorneys," Wiggins said his office does not.
"We would have to seek a special prosecutor from the attorney general's office, but that would put the case on hold while the attorney general's office appoints an attorney," he said.
While that is an option, he said he and Missaukee County Prosecutor David DenHouten each try to work together and will accept each other's conflicts. Wiggins added that it is not like the public defenders' office where they have a list of attorneys they can go to.
As for why it seems like his office is having trouble keeping assistant prosecutors, Wiggins said there are a few issues in play.
In the most recent case, Wiggins said the assistant prosecutor who was working in his office wasn't from the area. She started in August 2019 and by March 2020 the entire state was locked down due to COVID-19. As a result, the assistant prosecutor, who recently graduated from law school, had not had the opportunity to get out, socialize and meet people.
As a result, when the opportunity arose for her to go closer to home in southeast Michigan, Wiggins said she took it.
The other factor is money, according to Wiggins.
"The position pays $55,000 to $60,000 — and in our area that is good pay — but remember with new lawyers coming out of law school with $150,000 to $200,000 in student loan debt, housing and other payments, it can be cost-prohibitive," he said.
He said he has been interviewing candidates and even offered one of the two open positions to a lawyer who is a native to the Cadillac area living in Detroit, but he couldn't afford to take the pay cut. There is no doubt that economics plays a huge role in attracting and keeping young lawyers in his office, Wiggins said.
Couple that with no ties to the community and Wiggins said a job in his office is hard to keep filled. While he is dealing with this issue, Wiggins said it is shared across the state.
"Maybe two months ago, there was a discussion on a prosecutor's forum about all offices not being to find people to hire. It all came back to pay," Wiggins said. "The general consensus is for the amount of work they do for the pay is keeping the majority of applicants away. Money talks."
With law school graduations on the horizon, Wiggins is hopeful some applicants will be interested in filling his vacant positions. While there is hope, Wiggins also said the struggle is real.
In addition to the shortage of attorneys, Wiggins said his office also is short a part-time office worker. Once a person is out of the equation, he said it creates issues for others to cover when they already are stretched thin.
"You can only do that for so long," he said.